karman said:

Wondering if the crooked stitch on your Pochette Metis handle is normal? Or those wrinkles on the side of your Speedy Bandouliere? What about the little nick in the leather on the tab on your Pochette Accessoires? Scratched up button on your Victorine wallet? Unexplained dots on your Escale canvas? Worn off glazing on your Neverfull after only 1 month? Should you return/exchange?

We get A LOT of "Is this normal?" threads here on the LV forum. Just doing a quick search for "is this normal" in the LV forum ONLY, and ONLY searching titles,

there are over 200 thread

asking "Is this normal?" To ensure there's a single place for you to ask questions and get answers from people, and maybe make it easier for others after you with similar concerns, please ask them here.

Another suggestion: Please do a search of the LV forum. If you noticed something, maybe someone has already asked it especially if it's general questions about alignment, leather wrinkles, etc. If you click on the magnifying glass near the top right, you can do a search within the LV forum only by checking the box that says "Search this forum only". A search suggestion would be "normal pochette metis", for example.

For those asking questions: To help with searching within this thread, here are suggestions of keywords to include your post so that others reading through this thread can search your post if they have a similar concern. I'm not asking you to post in this format, but this would help!

Item material/canvas and style (example: Monogram Speedy 25 - please refrain from abbreviating since this means certain styles like "PM" for Pochette Metis and "PA" for Pochette Accessoires won't be searchable)
Issue you're asking about (example: leather wrinkle)
Location of the issue (example: under handle)
And of course, a photo or photos!

And for those searching within this thread, you can go up to the magnifying glass at the top right of the page (under your avatar, mailbox and flag/notifications), check the box "Search this thread only" and enter the keywords. For example, for my above example I can type

speedy leather wrinkle handle

and hopefully others' previous posts would show up!

For those answering questions: please be kind if you're in this thread! And remember to quote the person you're responding to!

Sometimes 100% perfection isn't possible. These items/bags/small leather goods are meant to be ENJOYED!
just purchased the LV Neverfull MM in DE and noticed a single red stitch on the outside handle. Would you consider this a defective bag?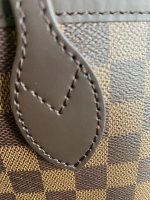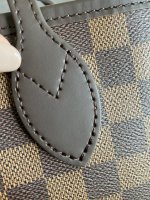 Last edited by a moderator: