Hello, TPF! How are you all doing?
I have a tan Pepe (sheepskin) Givenchy Pandora bag. I got it around 2012 and used it for over a year! And then it went into rotation, being stored in its dust bag and cleaned and checked regularly. I used it again today. When I pulled her out she looked fine. Nice and soft and smooth leather. I applied some leather conditioner all over her this morning just for kicks and used her in the afternoon. In the car I noticed some weirdness in the bottom of the bag.
Is it cracking? Is it super dried up? Is it (please no no no) is it mold? Can anyone help me?
The bag feels SOFT AND SUPPLE all throughout. Even in the weird areas it feels fine. Not stiff, not hard, not furry, not rough.
The bottom is dark from overuse but then there's some veiny thing happening. Depending on the light angle it can look like weird dark veins OR weird thin white veins. (?!?) I am perplexed. I googled mold photos on leather and it doesn't look like it. (?!?) I don't trust myself anymore. What is this and most importantly, can I fix it?
Here is the top of the bag. It has some small old oil (food) stains. It doesn't concern me much. The top is fine: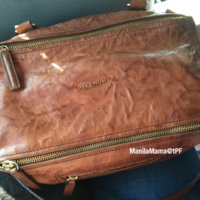 Here is the weirdness at the bottom. Note that the darkened area is (I presume) from overuse. It's the same type of almost-black darkening of the handles and the back of the bag near where it rubs under my arm. It's not the darkness that concerns me. It's the weird veining stuff going on: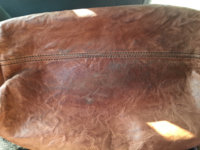 Here is a closeup. This is pretty much what it looks like to the naked eye. Dark veiny weirdness: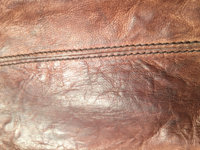 And here is the same closeup in another light angle. This angle makes it look like the veiny weirdness is white. This photo is quite creepy lol. But it could just be the light angle?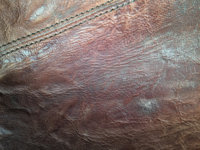 Ok there. Thank you for your time and patience with me and my petty bag problem hehe.
Any help and advice would be very much appreciated!!