I'm a small bag person; I usually carry camera bags or small crossbodies. However, last year I needed a bag to take to job interviews, and my requirements were that it would have no visible logos and be large enough to carry flat copies of my resume within. I'm not used to buying totes or briefcases so I found myself feeling lost.
The SA assisting me at the time convinced me that this quilted DKNY bag would be perfect. It was on sale and I've since used it for interviews. The leather is buttery, the logo is barely visible, and it certainly holds my resume copies comfortably, but I wonder now if it is too
casual
for the intended purpose.
I'd love other people's opinions on it. I'm not sure if I should replace it with something like a briefcase with more structure when the economy picks up and I'm interviewing again.
I've attached pictures but the bag is more clearly displayed on an old listing on The Outnet: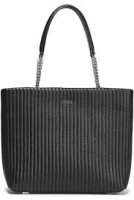 Last edited: