Hi from a first time MBMJ-er

After having retired from the Purseforum some time ago to put my existing bags to good use and try to feel if there any any major gaps in my purse warderobe, I came to an understanding that I seriously miss one type of bag - the comfortable yet stylish medium-size weekend/travel crossbody, which can fit an iPad and bottle of water (though not at the same time!), as well as my hat and gloves during winter when I am temporarily indoors and don't want to loose them. I adore my loyal companion Mulberry Anthony but let's face it - it can fit none of those items. Having done my homework, including lurking around on tPF, I realized that the Classic Q Natasha is exactly what I need - even despite the fact I prefer not to have any visual branding but I convinced myself the branding on the plaque is not very obvious...
So today I received my new bag with great excitement and the first thing I saw was that the metal plaque was crooked. Sure, it was crooked by only 2-3mm but it was all I could see. After two hours, I am not sure I notice it at this point as much anymore but I remember my initial reaction. Admitting I might have a mild case of OCD and a hard case of perfectionism, here I am asking you guys if you see what I saw. And thanks for your understanding - this kind and supportive community is where I even dare to pose such a question.
So, long story short - is the plaque on my new bag crooked or I am too being perfectionist about it?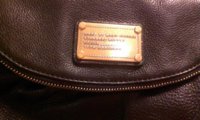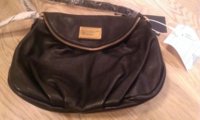 Last edited: