Can I bathe in them?
O.G.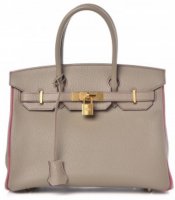 Yesterday I paid for the most expensive bag I've ever owned. It cost probably more than the average Birkin. I am normally an LV or Chanel girl. Did most of you start that way?
Is it normal to question whether or not I am sane? I have the cash, as well as a 401K, but I am single (with grown children though) and have nobody else's income to rely on. I keep thinking of all the other things I really should do with it, like house remodeling and saving more for retirement. I never really thought I would want a Birkin, but this gorgeous one popped up:
Miss Horseshoe Mysore Chevre 30 cm Gris Tourterelle with rose Tyrien interior and trim called to me.
Any words of wisdom?