Instagram @calisnoopy ❤️USC Football
O.G.
I thought this bag deserved its own thread aside from the small mention in my other thread about the differences in strap lengths in the vintage jumbo flaps

I acquired this amazing bag 2 months ago now but had it sent right off to Chanel repairs to clean it up a bit, came back to me 8 weeks later super nice, gorgeous lipstick red color, all clean and they even replaced the leather on the chain and replaced the hdw all over too
(I had the $265 USD Chanel spa service for this one)
I cannot say enough good stuff

about the Chanel jumbo vintage large flaps...the nice big but cute CC logo, how they hold up very well from the 2 I own and they are the bags that I get stopped by other passerbys the MOST OFTEN and whenever Im in the Chanel boutique or NM or Saks, people always ask the SA where they can get the exact same bag I have LOL :shame:
Here it is, finally home with me

A very short reveal, they wrapped it up so nicely and stuffed it super well from Chanel repairs too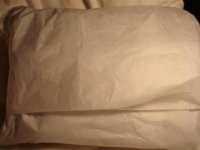 Here it is peeking out after I took off the initial layers of paper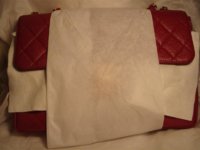 Almost all uncovered now...
YAY, here I am!!!
Modeling pix--yes, as you may have noticed, this one came with straps that are the same length as my med/large Chanel black caviar flap bag (not vintage), odd right? But I think its the best length for me anyhow, just confusing since my vintage black lambskin jumbo flap has much longer straps...the Chanel manager I spoke with today told me each season they varied a little bit in either the material, the grommets, the hdw, strap length, even a mm longer or shorter (just things not noticeable to the naked eye)