Hi!! Anyone around to share in a reveal?
Story: I reserved a certain GHW bag at CC. Naturally, I fretted over my hardware choice. Found a SHW one on eBay for considerably less than the one I reserved...I went for it!!
I lucked out!!! The bag is in IMMACULATE condition and smells like brand new leather!!!! Looks barely used. Maybe previous owner didn't like the distressed look. All the details are right and I had it authenticated. Plus with the money saved...can save up for the GHW!
Here she is!!!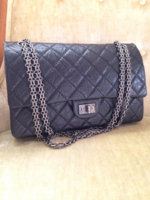 Reissue 226 ruthenium hw. I am 93 lbs 5'2 and this is definitely just the right size.
I love how soft and floppy the flap is in comparison with my ml lamb flap. I don't have to fight it...it just flops back! Love that!
Fits a ton!!
Thanks to several ladies on here answering my questions on reissues. They really are lighter!! And I LOVED how I could just carry this and feel zero brand consciousness! Cc locks are sooooo beautiful, but I think reissue is a better fit for me bc they can be more easily dressed down.
Thank you for letting me share!!!