Hello! I haven't been around for a while... I'm normally lurking and pop in when I have something to share... like today!
I missed out on most of the sale stuff because I couldn't be bothered to buy online. I live in Singapore now but am back in the UK for a week on Tuesday - I knew by then anything I wanted would've sold out. So today I decided to take a little trip to one of the stores here. I wanted something smallish and neutral (I have a black forest Del Rey, coral Bays and plum OS Alexa - do love big bags but time for something different) and had my eye on either a regular Alexa, small Del Rey or a Lily of some description.
First of all customer service here has always sucked! I walked in carrying my Alexa - you would've thought in an empty store a small comment couldn't hurt. They didn't even try to *sell* me anything and even forgot to suggest the spray! I used to work in retail at uni and come on, it's not rocket science.
Anyway I was there to spend money haha. Unfortunately as the Alexa's were all on sale, they'd sold out of regular island wide! They did have a pale pink (don't know the name) but it wasn't me, and also the brown one with the braids but it didn't look very nice. So my eyes were drawn to this instead...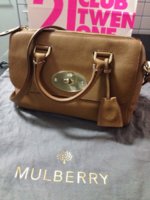 Here is a comparison to the normal Del Rey...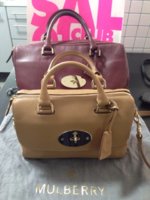 And some modeling pics... I'm 5' 2" size 12ish...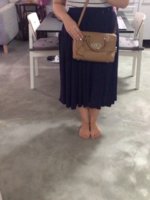 I LOVE her! Even the man approves... she was also the last one so we got an additional 10%! If we had a specific credit card from a certain bank we would've got ANOTHER 10%... Singapore is so generous haha!