Hello everyone! First of all,let me share with you my very first Chanel piece: old medium, black, caviar, RTH - the exact combo that I want and I feel very lucky.
I had gotten myself a mini red lady Dior as a bday gift few weeks ago. And because of that I started going back here frequently to read stories and adore all the pieces and ofc fell in love with Chanel. With that bday present I thought I'd wait till next year for a Chanel, but I figured if I wanted one anyway and waiting only made it more expensive, I took the plunge for my 1st bag. It was quite an amusing at the Chanel store in Zurich. I had gone there on a Fri after work but SAs told me they didn't have any in the combo I wanted but there might be one when the stock came the next day (I would think they would know exactly what they got since it was already close to the closing hour of that day!!!) Anyway I literally couldn't sleep so well that night haha and rushed to the store on Sat asap. After waiting for 15' for someone to come help me, I had to insist to my SA that I had seen another SA bringing that exact bag back to the stockroom, as she kept telling me it was not available. Then I pointed at a bag in the corner and told her "I want that exact same bag, except in black color". That helped as she used the code of the blue bag to check and brought me the bag I wanted. Phew!!! Luckily I watched people around me. So here he is!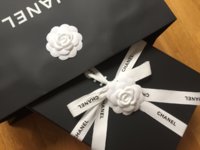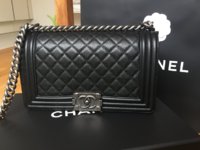 However, can you tell me if this is the correct dust bag? It's quite small and literally the boy just fits in with no more room on the sides. I'm not used to that as other brands I buy from always gave me bigger dust bags. So I had to struggle a bit to put it in.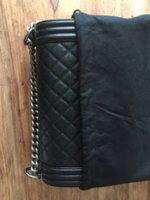 Also I would appreciate if you could give me your opinions on SLG. Before going to Chanel I had the LV store order a red vernis zippy coin purse for me. Now I've seen so many cute Chanel caviar classic flap card holders/ zippy coin purses I want one as well. My store however only has black flap card holders at the moment, no zcp. For me:
- LV zcp: red the color I want, practical and roomy as I want to put about 8 cards + notes folded halfway + coins that are sometimes heavy and 3cm in diameter. But vernis needs some care and it's a bit bigger for my mini bag.
- Chanel classic flap card holder (the one that looks like a tiny classic flap bag): smaller so save space in my mini lady Dior. But only 1 big compartment which I don't know can keep notes folded halfway and practical for coins in the front compartment? And, so CUTE!
- Chanel zcp: not as cute as the card holder but compartments help to organize things better and zip to secure things. But I have to wait until it comes to the store again, right now no one knows when.
LV only reserves the piece for me till Sat so I have to make a decision soon and I'd love to hear your opinions.
Thank you very much for letting me share this long post and for all your thoughts

! Once again, very happy to join the Chanel family.