Before I show my new beauties, a little backgrounder story.... it's long, so I won't be offended if you just skip forward to the photos!
A year ago, the most I had ever spent on a bag was $130. Then, I came into a little extra money, so I bought my first Coach bag and loved it. Then, I found tPF and read the Coach forums every day. I bought a few more Coach bags and a bunch of SLGs. I was looking at one of their bags that they were offering in vachetta, and I started spending some time in the LV forums reading up on how to care for vachetta (which I didn't end up buying). I remember seeing a post of Jennifer Love Hewitt carrying a Speedy, and I couldn't believe how hideous the bag was. 'What a waste of money,' I thought, for a bag that looked like a lunch box and was just a big hole with a single pocket!
Then, I saw Vlad's preview for the new Coach Legacy collection and I started saving for one of the bags I really liked, while I waited for the line to be released. A little time goes by, and I see a more expensive Coach I like, so I figure I should save up a little more.
Something keep pulling me back to the LV forums, and I found my opinion on the Speedy changing. Then, it occurred to me one day that if I saved up for that 'more expensive' Coach bag (it was $698), I was almost all the way to a Speedy. Then, it occurred to me that with a toddler, there was no way I could be a purely handheld girl... so I started saving up for a Speedy B.
Finally, Christmas came, and I got some gift certificates (and the Coach bag I'd originally started saving up for!), and I was ready to order my Speedy B! I live way too many hours away from an LV store, so I called them to put in a phone order; I live in Canada, so I can't order online. So, I called LV, and got the dreaded news: I can only order a store if 1) I am on their list already, which you can only be on if you have previously bought something in-store, and 2) I have purchased something from them in the last 12 months.
So no Speedy B for me. So sad! I figured I'd just use my money at Coach or something. But then, a miracle happened. My husband suggested that we go on a road trip in February. Ah ha! The trip he was planning went directly through a city with an LV! I could get my bag afterall! Then, that Coach bag I got at Xmas had some quality issues, so I returned it, and figured I could get a cles or something small with the Speedy B! Then, last week, my HR Manager lets me know that I have an anniversary bonus due to me for long-term service with the company. How much? Enough to switch that cles to a zippy compact wallet and a pochette!
So, without further adieu, here is my LV starter collection: Speedy B 30 in Ebene, Pochette Accessoires NM in Ebene, and Zippy Compact Wallet in Mono. You'll also see my 4-key holder in there, but I didn't buy it last week.
1. Me leaving the LV at Ogilvy in Montreal. My SA, Alexandra, was fantastic!!
2. My Speedy B 30 all filled up
3. All the stuff I'm carrying in the bag. I made the purse organizer form before we left on the trip. Once I get a feel for how everything fits in, I'll add the pockets.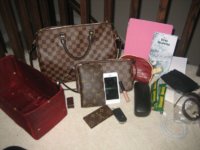 4. My Pochette Accessoires NM loaded up with wallet, 4-key holder, iPhone, and a lip gloss. I'm using it inside the Speedy to keep those things easy to find, and I'll use it as a grab-and-go bag.
5. My zippy compact wallet, heatstamped perfectly!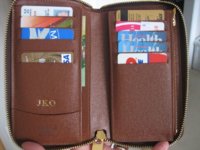 6. Here I am with my son (ignore his "hockey" face) at a hockey game, wearing my new pride and joy! I'm 5'4 and 120lbs for sizing reference.