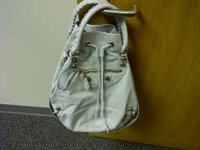 Could not resist...RGH is my favourite and this is the mRGH. The leather is really nice, smooth & relatively thick and not at all dry. I like Bal bags to get distressed but I don't want leather that is too dry or papery.
I think the shoulder strap is shorter than what it used to be on older pompon bags, but not 100% sure. I can still wear this cross body. I'm thrilled at how light weight she is

plus she is so adorable!