I have a six foot width of space on the side of my house that can be used for outdoor storage. I'm thinking about creating a potting bench area there, enclosed by a privacy fence and gate. (It would be bordered by the backyard fence, my garage, and the property border.) The length can be as long as I want.
Here are pics of some ideas I have so far, which includes items I have that can be repurposed. I like the idea of using pavers for the base, to keep the potting bench and other items nicer. I may put a deck storage bench out there to store outdoor materials like sand, rocks, maybe fertilizer or mulch? Also I have a couple of large planters. I am trying to get some of this stuff out of the garage, but I'd also like this to be a cute outdoor space. Fence is natural cedar, house is painted white. I'm also thinking about hanging solar lights above the potting bench but they will be lit at night, but if the area is enclosed and gate locked do I need to be worried about theft? This stuff is not super valuable.
Do you have more suggestions?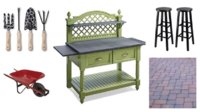 Also looking to add value to the home. Do you think buyers would appreciate a space like this? Investment is minimal, mostly DIY work for me.