And the winner is.......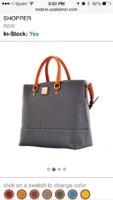 The Pebble Leather Chelsea Shopper. Tada! Lol.
I'm surprised too. Lol. I couldn't take the anxiety of the show and I needed to get it over with. (I can always switch around, too, I guess. Lol.) But what did me in was the visit to Macy's today. I saw it there in the Jeans color - it is to die for!!! Actually, if not for my grey obsession (which I've had for years not just the "fall" fad color) I might've gotten that one. It's very rich and pretty. QVC's grey swatch is very dark. So I looked up pics online and I'm hoping the pic I posted is closer. (The Flo Chelsea got me crazy too. But the price scared me.)
Now I'm complete. For now. Still want that Bristol in grey though.
Oh! And the bitsy bag is too cute! Saw one at Macy's. They had one color there. I might look for it at an outlet. I like it. Fun to have. But tiny! Almost useless. Lol.
Almost 9 pm! See y'all in the QVC show thread.