So I actually bought this baby last week..but I have been holding off doing a reveal b/c I knew PCE was coming and I was going to do one BIG blue reveal (hoping for something cobalt)....well I saw a thread where someone wanted a pic of this baby...so here she is!!!
Miss Blue Jean Groovy -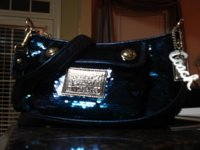 I took the "Coach" script hang tag off my glam tote and put it on Miss Groovy..I liked it better than the disco ball.
I have to say I love her more than I thought I would and now I am eyeing this baby in the graphite in either groovy or spotlight....
No modeling pics...I am in my pjs & dont want to scare anybody but maybe tomorrow when I take her out for a spin!
Thanks for viewing