Hello!
I joined eBay a few days ago as I needed to buy a phone to replace the one I accidentally smashed.

Amazon
is often more expensive. I found a few phones I liked and made some bids (was outbid). I occasionally contacted sellers to ask for more details about certain phones. Most sellers were quick and friendly.

A couple of days ago I made an offer on a phone which was originally accepted while I was asleep but by the time I had woken up was no longer available. Yesterday or the day before I found another seller selling the phone I wanted. I bargained with the seller and yesterday at about 3 pm s/he accepted my offer. Having already read rules about offers I knew I had to pay within two days. As I don't have a permanent credit or debit card I planned to buy a prepaid Visa or MasterCard earlier today before three and pay. However, when I logged in to my account around 11 am I saw the message that my account had been suspended. The weird thing was that the message did not mention why I was suspended and furthermore said I could not appeal. Here is the full text of the message.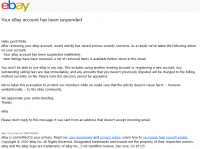 I did a little research about suspended accounts and discovered that there was a phone number to call. It wasn't working so I used eBay's live chat. The representative was very friendly and transferred my inquiry about my suspension to the account team. She said that I would receive an e-mail from them. A couple of hours later I did. It was another very vague e-mail. Here is the text.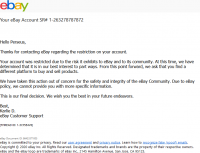 Did I do anything wrong? Also what part of eBay's policy would prevent them from letting me know why my account was suspended? Do I have any reasonable options besides being forced to leave eBay for life?

I don't know if it will help you try to determine why my account may have been suspended but I will add that I hadn't had a payment option set up yet at the time of the suspension as I still had to get the prepaid card. Also I believe before I was suspended I only logged in on two devices, a spare phone and a laptop.

I hope this can get resolved or I can know what I did wrong because being banned from eBay from life for an unknown reason isn't fun.

​