Hi guys!! I thought that I would share how I successfully cleaned my Fendi neoprene baguette because I haven't seen any post which really addresses how to do so. This is how I did it based on reading other threads on cleaning canvas/fabric bags and it's not really that much different.
Please
remember this is how I did it so it may not work for you, depending on the state etc of your bag etc so tweak it to fit your needs.
For context, I bought my bag from a Japanese eBay seller and was surprised just how sticky it was. It was
so sticky
that just after a few seconds of touching it I could feel the residue on my hands (ikr really
gross
). I tried wiping with just baby wipes but it was just not doing anything. The inside of the bag was especially sticky from age, storage and humidity etc. Also,
the inner lining of my bag is neoprene as it is outside.
To clean it, I first removed the leather handle - you don't really want to submerge in water if you can help it. The main body of the bag did have leather parts i.e zipper but I couldn't help that (washing it in water didn't damage it thankfully).
Then I took some gentle detergent and poured about 1 teaspoon into a clean basin, and filled it with lukewarm water. You don't want to use hot water throughout this process because (apparently) it can set the stickiness.
I submerged the bag in the water and let it soak for a few hours.
When I came back the water looked quite dirty and brown (from the black dye of the bag I think + dirt). I then took a bit of detergent on my fingers and rubbed the parts of the bag which was most sticky (the inner edges). I also used a toothbrush dipped in a bit of detergent to scrub the zippers because they were also covered in grime.
After that I thoroughly rinsed the bag with cold water to get rid of the detergent. I also squeezed the bag to get rid of any excess water.
I didn't clip my bag to dry, instead I laid it flat on a rack so that it wouldn't lose its shape.
I also took a dry cloth and wiped the metal hardware and leather parts so that it wouldn't be that affected by the water. Tbh idk if that did anything but I wanted to be sure.
I let it dry overnight and it was done! It smelt great and I could really feel how clean the bag was compared to before. Be sure to let the bag dry thoroughly especially if it has leather bits.
I actually washed my bag 3 times because I had trouble getting rid of the stickiness in some parts of the bag, but if your bag isn't as crazy sticky as mine you wouldn't need to do it more than once.
Other things I did to clean my bag:
polished the hardware on my bag with a silver/gold/steel etc fluid which was really effective in making it shiny and removing dirt,
used a deep cleaning leather spray and leather conditioner on the leather parts of the bag (strap, zipper etc).
I've read that you could put your fabric bag in the washing machine on a low/gentle setting but I didn't want to risk that. I just think hand-washing is a lot safer.
I'm really pleased with the results as this was my 1st vintage luxury piece I bought with my own money and cleaning a bag like this!! Anyway I hope that this will help someone! I'm not an expert so if you have anything else to add please fire away!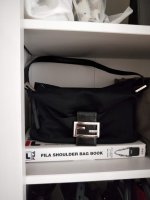 Last edited: