I bought this fun little sterling silver ring and I love everything about it, except I really wish the silver were a shade darker.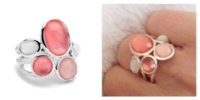 Left is stock photo, right is a bad ipad 2 pic (sorry).
Do you think it's too bright? Or is that a trend right now?
I have other silver pieces that are just as bright but they don't bother me, maybe because the silver is thicker and/or it has more texture, IDK. Or maybe they are covered with oils or fingerprints which makes them matte. Or maybe the silver stands out more on this piece because the stones are reflecting off it.

I have been googling and a lot of people are trying to make their silver pieces shinier. Others create a patina or tarnish by exposing to harsh chemicals or ammonia fumes or boiled egg or the shower steam or by wearing the piece. Should I wait it out? Should I massage it with my fingers? Should I just accept and embrace it?
BTW, I have some sterling earrings that I feel the same way about but I don't know if they have an additional coating. They have no stones and were cheaper - I could experiment on those. Both pieces are hammered. I would not risk a dip, but I am thinking about the fumes and the egg method.
TIA!