Do you have silver pumps?
What do you wear them with?
Where do you wear them?
How often do you wear them?
Do you think they are trendy or a classic?
How long do you think they will be in style?
How does the metallic leather wear?
I have fallen in love with the Jimmy Choo Anouks in the fashion bloggers' pics. I'm not going to buy the Choos, but I found these with a rounder toe, and I would like to wear them with casual outfits (I think....):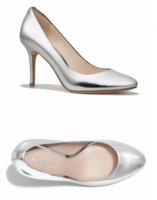 Do you think the rounder toe works on the silver pump?
TIA!