Published in FORBES on 12/11/2015
Since taking over the creative reins at Louis Vuitton, designer Nicholas Ghesquière has been riding the brand into a new era, while still keeping to codes of the house, which are built upon the sale of luxury carryalls. After all, Louis Vuitton did start as travel accessories line in 1854. His predecessor, Marc Jacobs, was certainly adept at creating a buzz around his collections, collaborating with the most noted names in the art world, and borrowing from various styles throughout history. Profits soared and the masses took notice. But Ghesquière has taken a seemingly different, perhaps wiser, approach. Instead of playing to nostalgia season after season, he is forming a defined aesthetic that is equal parts trendy and timeless. Where Jacobs was traveling to the past, Ghesquière is traveling to the future.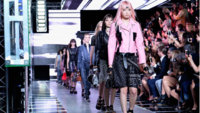 This sensibility materializes with the bags Ghesquière has introduced since his debut at the maison in 2014—namely, the Petite Malle, GO-14 PM, and Twist. They all have facets that draw on the brand's classic trunks, but, generally, nothing appears antiquated about them. Unlike Vuitton's successful stable of styles—the Alma, Capucines, Speedy, and Neverfull (all great in their own right)—Ghesquière's offerings are much more electrified, and fit better with the time.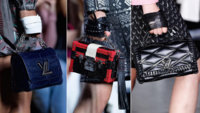 The compact, unfussy silhouettes speak more to the modern woman, one who doesn't need to carry so many items, as everything she needs is on her iPhone. The shapes (from the Petite Malle's box to GO-14 PM's curves) also lend themselves to adaptability: you can go from boardroom to bar without changing your accessory, and looking out of place. Factor in the adjustable straps, modernized "LV" logo, and the array of colors, patterns and fabrics, and these new styles may become just as iconic and remunerative as the bags found at other labels—like Fendi's Baguette, Dior's Miss Dior, Chanel's 2.55. To whit: they'll certainly last well beyond Ghesquière's tenure at the label, which hopefully won't happen any time soon.