Despite my best efforts to stay away from DH (he's had a cold all week), I woke up feeling awful. So I stayed home and have been shopping online all day. Anyone else overspend when they're sick? [emoji40][emoji30][emoji40][emoji30]
Anyway, I decided I needed to identify pieces in my collection they I've literally NEVER used. I need to force myself to use these before buying anything new. So I'm ok if the new releases take an extra week. Haha. [emoji6][emoji6][emoji12]
So here are the three pieces in my LV collection they I've never touched. And I have no idea why!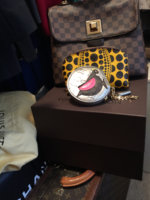 Especially need to use this little guy.
Would love to see similar posts from other collectors that might find unused treasures in their closets. (I may do the same thing for my Chanel collection later today if I feel up to it).
Thanks for letting me share! Have a lovely day.