It's true to fact when I say this reveal has been a very long time coming. As long as I've been a PurseForum member (since 2009) this particular bag has been my number one holy grail bag, but for many reasons it's always been the one that got away. There's been times over the years where I simply couldn't afford it, or where I couldn't justify the constant price increases, times where I got tired of sitting on store waitlists, and then well, life often gets in the way and adult priorities take over. Ultimately I ended up listening to the opinions of friends and other forum members who found the bag heavy and cumbersome which made letting it go slightly easier. I decided to move on believing it was out of my reach.
Fast forward almost 15 years and life has significantly changed, I've been an International Flight Attendant now for 13+ years and I no longer regularly use my handbags the way I did when I worked in the corporate world. Since then I've accumulated some beautiful bags, I'd even purchased a new soft/easy version of the bag as a compromise, citing that it was lighter and cheaper, but the fear of it softening and losing its structure over time stopped me from regularly using it. A few years ago I also bought a mint condition Diana flap in lambskin in Japan but never used it because the thought of scratching the buttery lambskin scared me.
Sad to see my bags gathering dust, I recently made the decision to consign most of my collection with
Fashionphile
and take store credit. With the money sitting on my account I spent a few weeks deciding what to do... Finally get my holy grail bag, or listen to popular opinion and choose a smaller size that's lighter on the shoulder, able to transition easily from day to night and in some cases, just considered more practical?
So began the YouTube rabbit-hole, devouring online bag reviews and mod shots, forum searches, and finally a hugely helpful visit to the Newport Beach/Fashion Island boutique while I was on a work trip from my home base in Sydney. The SA who looked after me could not have been more helpful. She took the time to let me try on and play with both bags, despite knowing that I was buying pre-loved, which seemed of no consequence to her. She was friendly, fun and determined to help me until I felt I had the clarity I needed around my purchase. It was all-around an absolutely fantastic instore experience and a pivotal moment in helping me make an informed decision.
As soon as she handed me the Medium I knew... I looked in the mirror and instantly felt like a Linebacker trying to be ballarina. I think I may have even laughed out loud looking at myself in the mirror with this dainty little handag that felt immediately overwhelmed and by my 5,7 frame. As someone who does daily crossfit classes, I have solid arms and shoulders, and as a result, I'm kind of built like a swimmer. It just wasnt the right fit.
Taking it off, the SA handed me my holy grail... the Jumbo CF in Caviar with SHW. Picking it up I think my heart stopped... From the second I slung it over my shoulder it was love at first sight. If it's possible for a handbag to fit like a glove, the Jumbo fit me perfectly in every way. It fit my frame and most importantly it fit my personality. It also didn't feel anywhere near as heavy as I'd come to expect, despite it obviously being empty. With that in mind, I walked out of the boutique 100% certain and excited that after 15 years I was finally going to pull the trigger.
And so I did. I scoured Fashionphile and found a Jumbo in perfect condition with box, dustbag and card for a fantastic price... and luckily, right before the price increase came in earlier this week. Today I picked her up on a work trip at Fashionphile in Dallas and I simply couldn't be more thrilled. Despite being from the 2014 collection she's in brand new condition, the leather is still stiff and there's not a mark or a scuff on her. I just can't believe she's mine after all this time. With the additional credit on my account I was also able to grab a few SLG, so without further ado, here's a few photos of my new to me Jumbo unboxing and a few photos from the boutique in Newport Beach last week.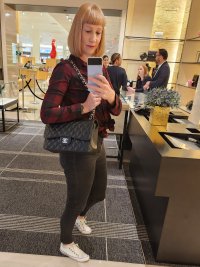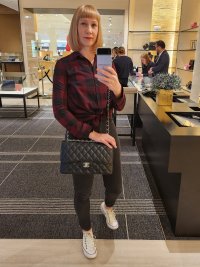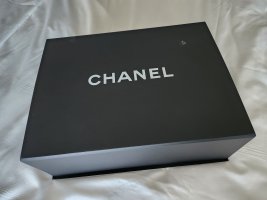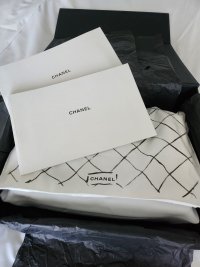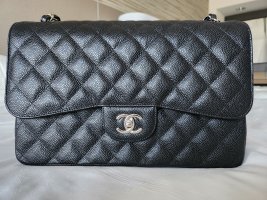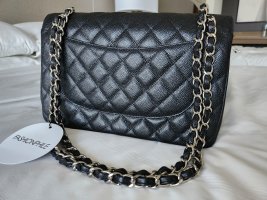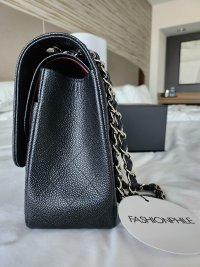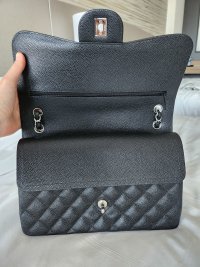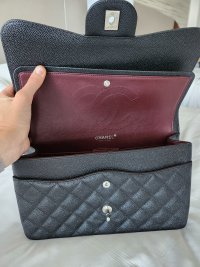 View attachment 5733867
Last edited: