Dear tPFers, this is my first thread and sure hope I won't regret later [emoji4]
And I will try to keep it short so others can chime in...
Used to buy designers bags when they went on sale (doesn't matter if I really liked them or not. Just having a hard time to pass on a deal). Then I discovered Chanel like most people, couldn't stop looking and wanting the next "IT" bag. I have had purchased bags from all sorts of designers but the orange Hermes is always the dream would never come true for me.
If you had asked me a year ago to buy a brand new birkin, I probably would say unless I won the lottery....
My husband and I would joke about me owning a birkin and use it as a diaper bag like some celebrities on tv. Never owned any Hermes piece until last March when I bought the first clic clac. Then I couldn't stop browsing all the beautiful pics of H bags online. My husband doesn't understand the hype behind the luxury goods and would tease me from time to time but he is very good at taking notes of what I want. Same March last year, he bought me a Chanel chevron boy during our trip, thinking that the boy would be it. Until I kept talking about how H bags were investment ect. Like I said, I had only shopped once or twice at our home store at this point.
Fast forward to September, he walked into the Hermes store on my birthday and asked for the SA who helped me with the clic, and flat out told her "my wife really wants a birkin. What can I do to get her a birkin?" The SA said "well, we only sell our B/K to our clients" (which I thought was funny because aren't we all clients if we shop at the store?) And he asked what he could do to become a "client"? With the help of the SA, they picked a Kelly wallet, double tour watch, cashmere shawl and twilly for my birthday. He came home and put all the goodies in plastic grocery bags and said "Happy birthday!" I was thrilled to see what's inside. ( im a bad person because I returned all of them and exchanged for things that I would use... regret it very much. Wish I had kept the Kelly wallet and the shawl.
Within 10 days, I got a call from the store saying that my birkin had arrived if I would like to take a look. Well, yes, I got the birkin and my husband thought finally, this is the end of my handbag buying history. Strange thing is that I now want to collect more and have no problem getting rid of my other bags for another H bag.
We don't have money trees growing in our backyard and work really hard for our money but the urge to want to buy another B or K is killing me [emoji12]
That being said, I'm saving for a red B or K and hopefully it would come soon and maybe, just maybe, I would be content [emoji18]
Would love to hear your stories if you don't mind sharing.
Everything in the picture was collected within 10 months... crazy...
(Some small items are missing from the pic because was trying to take a picture before my 2 year-old got his chocolate covered hands on my bags [emoji847])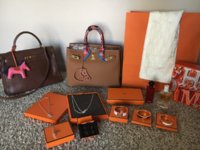 Ps. This thread isn't meant for bragging and if you have anything negative to say, would you please keep it to yourself? [emoji8]