Hi everyone,
Hope you're all keeping well during this crazy time. You may remember that awhile back I was contemplating getting an Orange H Birkin or Kelly. Well, since then I've gotten a completely different color lol. Here it is revealed...
...
...
...
...
...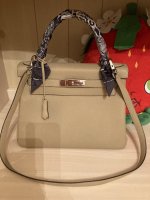 Here is my new (to me) Kelly 28, Retourné, Clemence leather, trench color with palladium hardware.
Very different from orange h lol. Trench color is so hard to photograph. It looks different in-person!
There's a slight odor (perfume? Maybe even cigarette?) so I've put some baking soda inside an open plastic bag inside the Kelly. If anyone had this situation before would love to hear what you did successfully.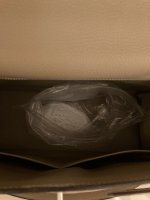 Last edited: