Advice needed!
Hermes Bolide vs Chanel boy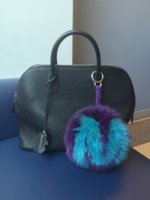 So I recently decided to purchase my first Hermes, after lots of consideration I decided on this particular bolide. Mine is exactly what I wanted, Clemence in black with silver hardware with no patch or middle stitch/pocket. It's an amazing shape for its age no signs of any serious wear, but I'm not as over the moon with it as I thought I would be. The leather is AMAZING and I still love the bag but maybe I hyped it up too much in my head? I've been wanting a small boy for a while but recently purchased a stingray Celine box that I have been using as my main cross body and it's one of my holy Grail bags so that's definitely not going to go! So I decided to wait on the Chanel and buy something that may be more practical, which lead me to the bolide. Either way I was thinking of selling it but I'm a little hesitant as this is the only style of bolide I like for myself, and since it is an older style from 2001 it's hard to find, especially in almost new condition.
What do you all think? Have any suggestions? Thank you!