I'm contemplating on a buying the right Hermes bag for me but not sure what to go for.
It will be in the best preowned cond possible and not new.
Ive prev owned a Picotin and vintage crocodile piano bag. Which I no longer have.
I have these choice ahead of me:
1.Birkin
2.Kelly
3.Jpg Birkin
4. Kelly clutch
5.Kelly shoulder
4.So Kelly
Or are there any others that I haven't mentioned.
I am a busy mum of 3 as well as a little one on the way at the end of July and would like a stylish, good quality Hermes that I will use and keep and if I decide to let it go in the future that it will keep its value also.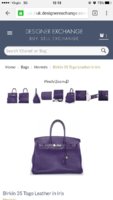 Just a few I've seen.
What do you think and ideas exps on size weight leathers etc would be so helpful and I can decide as its driving me crazy.
I'm 5ft 5'
Size 12
Skinny build. Some say petite.
Look young for my age. [emoji4]
I need to be patient and find the right one and all info from here is essential before I make that decision.