As some of you may know I recently went to the cobbler with my lady peeps cause my heel was peeled off when it got stuck in a crack. The cobbler did an excellent job !
Yesterday I was going to wear them for the second time. This is what happened. Basically I walked out of my friends house directly to the car which stood outside and while I walked I heard a crack !!!! And when we got out of the car this is what I saw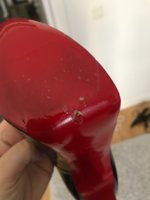 Does anyone know if a cobbler can fix this or if even CL can ?