Hi everyone,
I just got a 21C black mini rectangle flap with LGHW and would love to hear your thoughts on whether I should keep, return, or exchange. My main concerns are:
1) All my previous Chanel bags came with two tags - one with the price and one with the bag's serial number and style info (see pic of the two tags I received with my med classic flap). However, my mini only came with the price tag. Main difference with this purchase is that it was shipped from the boutique whereas all my previous purchases were in-store (boutique and department store). Is this normal/should I be concerned with authenticity? Would I not be able to return my mini flap without the second tag?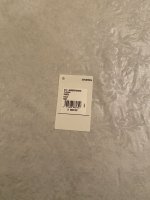 2) The leather on the part of the strap that goes over your shoulder is quite wrinkled, especially when you compare it to the leather on the strap close to the grommets (shoulder strap leather on the right vs strap leather near grommet on the left). Does this mean this bag was used then returned? Could any lambskin owners confirm this is a sign of wear and tear?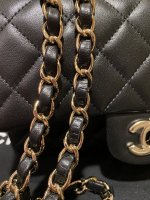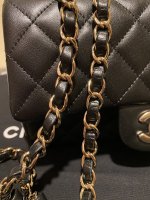 3) The inner lining of the bag is loose/there is a huge air bubble in the base. This seems to be a common issue with Chanel bags in general but curious if any mini or lambskin owners have been able to even it out with use or storage.
4) There are some minor marks on the bottom that I have not been able to rub out. They are mainly visible under certain lighting/angles so I am not sure if they are scratches. Anyone know what they could be and how to get rid of them?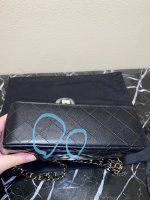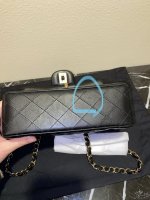 The quilts are also not as puffy as I would like and three of the quilts on the front are actually slightly deflated but I would be willing to overlook that along with the inner lining as well as marks on the bottom. My biggest concern is the wrinkled leather on the shoulder strap, as I would imagine this will only get worse, with my worst nightmare being the leather would eventually crack or snap in half.
I do however love the size and chain length of the mini flap and have been wanting to add a small crossbody bag to my collection. In addition, the stitching and flap alignment are close to perfect and the folds on the sides are even. I've also heard that mini flaps can be hard to get a hold of - is that still the case? And of course there's the constant fear of price increases!
If you were in my shoes, would you keep this bag? Any advice would be greatly appreciated!!
Last edited: