As Chanel prices have increased significantly, I have been looking for my first Chanel handbag from consignment stores. I stumbled upon this brand new series 23 square mini flap in the blue crackled calfskin selling for €2100.
I really want a black lambskin square or rectangular mini flap. But I am now torn on whether I should settle for this color and leather considering it is so much cheaper than the current retail price (€3350).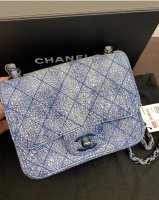 What are your thoughts? Do you think this is wearable enough for day to day? And do you think it would be easy to sell in the future when I have the funds for a classic flap? Thank you so much for taking the time.