After nearly a year of indecisiveness, I finally decided to get the classic JUC with diamonds. It's a really stunning piece and I got it to stack with my classic and thin loves.
I hadn't been to the boutique since the pandemic started, so it's been a while since I saw it in person.
I got it yesterday and tried it on a few times. I'm just not sure if I'm loving the way it's laying. I find when it's on the bottom of my stack, the pointy part lays on top of my hand, not my wrist, which isn't the most comfortable and looks a little funny to me. When I wear it on top of my stack, I'm just not sure if it looks "right". What do you all think? I like that when worn this way, the diamonds on the pointy part can really be seen and the bracelet as a whole really stands out more. But does it look upside down?
(I'll only wear it with the nail head against my loves)
I'm debating if I should.....
1- Keep the JUC, stop overthinking, it's a beautiful stack
2- Exchange it for the rainbow love and use the remaining credit another time
3- Get full credit and consider other options
Here are some pics of the JUC worn both ways.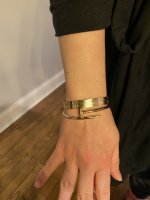 Last edited: