Jun 28, 2006
7,762
287
53
I had been pining over a better quality ring guard b/c I couldn't keep my original clean. So for my anniversary my hubby decided to upgrade to what I thought I would prefer instead.
We bought two diamond bands to compliment My E-ring... but although they're gorgeous, I am always irritated that I have to keep fighting/fixing them so the diamonds are showing and not the back of the bands. Now I'm thinking I should have gotten eternity bands instead.
I'm not so sure I did the right thing by trading up...

I'm thinking of going back to Jewelry store and ask to get my old guard back.
Please render advice on which you think looks better... old set or new.
Here are my pics...
Original- Gorgeous, but the baggettes and my emerald cut center got dirty quickly..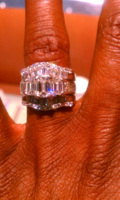 1st change - Got a different guard. This sparkled more than my E-Ring and couldn't keep it centered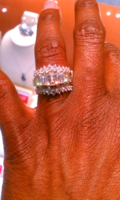 So we took the new guard back and got these instead.. .78 CT VVS clarity. Problem is... they are always turning on back side.
So... these are the eternity bands I am looking at to replace the above bands with.
Please provide feedback on which style looks best with my engagement ring. Thanks in advance.