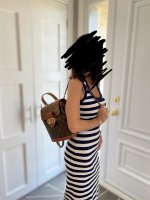 hi guys,
I pulled the plug on the Dauphine backpack. I ordered her pre Covid and I was able to have the store ship her last week. I love her but I find her a bit big on me and I am at the last holes..
And then there is the BOite a chapeau. I was in love when I first tried her on but hesitated because of the zipper. I was scared of scratching my watch every time I would have to get things in or out. But now.. I'm stuck between the two.
Which would you choose?
Help!