Dear TPFs: I have been deciding on what bracelet I should invest in next... 2 potential options are between the VCA perlee clover rose gold bracelet and the Cartier thin love diamond bracelet in RG.
I'm attaching both pictures along with my collection today that includes a RG cartier love, RG VCA Alhambra bracelet, and a Cartier RG diamond JUC. The last bracelet is yellow and white gold with diamonds given by my mom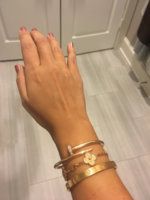 While both bracelets considered are in the same price range they are very different in style and also function. I wouldn't wear them all together but wanted the flexibility to occasionally stack and also to build a collection that I can swap out over time.
Your input/ advice is greatly appreciated!
Last edited: