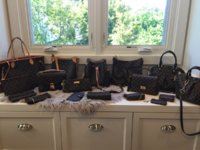 Please help me decide on my next bag. I'm a huge crossbody girl and am wanting something in the Damier Ebene print. What would you recommend?
These are the LV canvas bags I own:
Croisette DE
Bloomsbury pm DE
Siena pm DE
Trevi PM DE
Neo Noe Rose Poudre (Mono)
Eva clutch Mono
Neverfull mm Mono
Odeon PM Mono
Pochette Metis Mono
As you can see I have varying sizes, and I switch bags often, so size is not really an issue. But, I do not like my crossbody bags to be too big!
I've been thinking about the Alma BB or Speedy B 25??? Given my current collection, which of the two do you recommend? Or is there another smaller DE crossbody you love? Thank you!!!