Just a gal who loves purses, clocks and cats
O.G.
I need a new backpack so been doing some research. I am stuck between two, the Lockme Backpack (not the mini) and the Epi Mabillon. I am really confused as to which I should get. There are pros and cons to both.
Lock Me seems like it will hold more and the leather seems more comfy to wear on back. Two cons are I am not really a fan of the giant LV hardware on it and not if it would take a beating as well as the epi would.
Mabillon- I think the shape is more interesting, it just has the little LV in corner so not as noticeable and may look better on my small frame (5'2 90 pounds), Also I will save quite a bit, that really is not a huge deal to me but I am rather frugal so I always like to save. Cons would be I do not think I can fit everything I need into it. Would like to use it for outings with my dog so would need her water, bags, collapsible water dish, wipes and my stuff (wallet, keys, sanitizer ). Another con is it seems like the epi leather can be abit hard on the back.
Any advice would be much appreciated.
.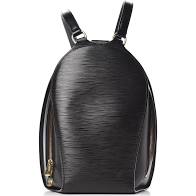 Last edited: