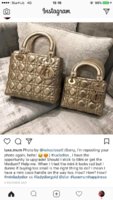 Hello my ladies!
I'm very new to Dior! This is my first purchase and I'm very happy with it --- just that --- I have a mini coco handle coming and I just bought the mini lady Dior ( exact one in picture attached ) .
I don't know if having 2 minis are a good idea?
My SA told a GREAT news that I can upgrade to the medium, should I?
Or just stick to the mini? I mean yeah, the mini looks great on me and all. ... Any ladies can share modshots wearing their lady Dior in medium on should and cross body. Is it a hassle with all the handles?
I'm 163cm wearing mini crossbody is perfect. But i don't know if the medium will be fine crossbody too.
Ouh. Can anyone direct me to the Dior Singapore Thread too?
Thank you!!! [emoji7][emoji7][emoji173]️[emoji173]️[emoji173]️