Hi ladies I need your help!!
I purchased my gorgeous CF jumbo in black caviar with GHW back in March of this year from the New Bond Street store in London. Since I'm only 20 and it will likely be my only Chanel bag for the time being. So I have cherished it and only used it.. Maybe 10/15 times at the very most!
I noticed the other week that a thread has come loose on one of the stitchings on the back! [emoji24][emoji24] see pics below! (Sorry for the atrocious pics, I've realised its a very hard angle to take pics of!)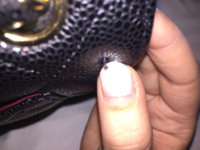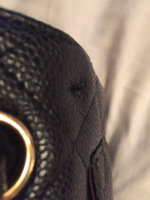 I hope you can see clearly?!
I know it's not a big thing and I'm worried I'm overreacting. But after paying £3,500 for a handbag I'd expect it to hold up better than it has after 9 months..
Also I do not live near a Chanel store so if I were to contact them what would be the best way.
What should I do?!
Thankyou ladies, I'm counting on your help! [emoji8][emoji8] xx