I have polled my bestie, BF and 2 friends and I'm evenly matched at 2 for 2.
Which bag should I go for since I can only have store credit? I just picked up two so black bags (old med boy and small 225 Reissue, I was going to show them on here but I rather do a triple reveal when I have all 3 since I'm exchanging/returning my backpack for the third...).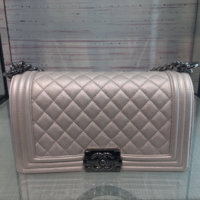 Both photos from my SA Thomas at Hirsch.
Either old med silver cav with beautiful gunmetal hw or the lambskin black mini with lghw.
What do you guys think?
My collection:
Alma BB - DE
Eva -DE
Mini Palm Springs BackPack
Neverfull Mm - DE
neverfull MM - DA
Chanel old med so black boy
Chanel reissue 225 so black in small (size between small and ML flap)
I sort of have bags in both sizes already... I'm just wondering if I I should go with the safe color in lambskin or the fun color in cav. My 2 friends say Silver is a neutral and I only wear silver jewelry but my BF is being pragmatic and says black all the way... HELP!