Hi, all! I'm totally a Chanel noob, so I need some help deciding! I'm torn between these two bags that I found on local consignment, both priced almost the same. The fact that they're not in the classic flap category yet have somewhat similar, more-relaxed vibe, really drawn me to it. I'm a casual dresser most of the time, but loves to clash formal-looking accessories into my daily outfit. Votes/comments are greatly appreciated as I'm new to everything Chanel

*images are taken from various sources*
First contender:
1. Chanel Coco Rain Flap from the Paris-Shanghai Collection, with attached raincoat at the back pocket. Lambskin with SHW - comes with Entrupy authentication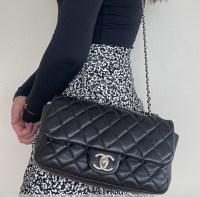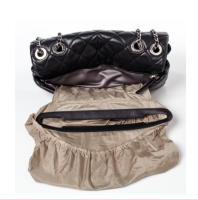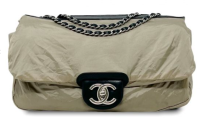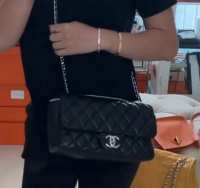 I think what made me fall in love with this bag is the fact that it's in smooth lambskin (I have a puzzle bag from Loewe in smooth leather that I use almost daily) and the raincoat feature! Granted, I probably won't use it too often since I can't be bothered to take it on/off all the time, but I thought this feature will make the bag more travel-friendly, and where I live does rain most of the time anyway
Second contender:
2. Chanel Vintage flap from year 2006-2008 (11 series). Jersey with GHW - comes with authenticity card
I love the mix material (jersey on the bag and leather on the strap) and the bigger quilts! The fact that it's a fabric bag doesn't really scare me since I have a Fendi large denim baguette that I use almost daily as well in a brighter color combo, so I thought this bag, in black would be fuss-free.
-------------------------------------
SIDENOTE: I also noticed that the Vintage jersey one has the authenticity card, which probably adds more value to it in the long run. But I'm also curious about Chanel lambskin, especially since the Coco Rain Flap was from years ago yet the leather looks stunning! Either way, I'm looking forward to using the bag myself so I'm not too fussy about it.
Votes and comments are highly appreciated

Thanks so much in advance!!
Last edited: