Hi everyone! I fell in love with the "Greige" color for LV this season and I want to purchase an item before the season ends, but I am torn to choose between a few options. I can't go into a store to try on the items myself, so hoping anyone with these bags can help me decide. I originally wanted the LockMe Ever BB, but they only offer the Greige color in the MM size, and that is much too large for me. I am 5"1 and prefer bags with multiple strap/wear options.
The new LockMe Clutch is a very interesting design! I love the top handle that reminds me of the Pochette Metis' and the detachable strap that can also be adjusted to shoulder or crossbody lengths is super appealing to me, but it is a new design so I don't have much information on it.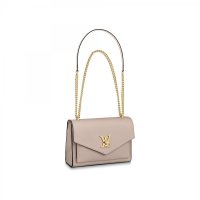 The MyLockMe BB has been on my radar for a while but I prefer gold hardware so I never pulled the trigger, but now with the beautiful Greige option, it's been in my cart. I love the envelope front flap but I do wish the chains were detachable.
Do you have either of these styles? Which do you prefer? I'd love to hear everyone's thoughts!