I got a Sylvie and I dont like the length of the strap. I love the bag but sometimes you can't carry it by hand, and the sholder strap included wasn't particularly comfortable.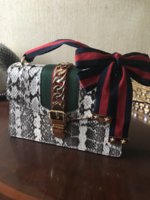 Ideally i think the chloe drew bag chain would be ideal but buying an expensive bag just for the chain..... that's not an option.
You guys have any suggestions?
Keep in mind that the bow takes some space so the clasp cant be too large but still fit through hoop