Hi~This is my first thread

I just got my classic speedy 30 in DE, which is made in France. However, I found its color, texure and the stamp on the leather tag are different from those of my other DE bags and my friend's same DE speedy 30 (hers is made in USA).
I know it was almost impossible that the official website would sold a fake purse, but I still can't help to thinking that my speedy was returned by somebody. Actually I was a little bit surprised when I found it was made in France, because I thought all the speedy sold in US market should be made in USA. My friend ordered her just two day laters than I did, both from LV official website, but mine is MIF and hers is MIUSA.
At Present I have DE Neverfull (MIUSA 2012) and DE coins wallet (MIF 2010) at my hand, so I took pictures to show the difference between them and my new speedy 30.
1) The color of speedy 30 is obviously more yellowish than my others DE bags and my friend's DE speedy. (My friend's speedy 30 are in the similar color with my other DE bags, but I did not take picture for it.) The texture of my speedy is obviously softer than others.
2) The stamp on the leather tag. The letter typeface is much "thiner" than that on my friend's speedy and all other speedys I saw on TPF (Can you understand me?

). Please see the pictures of different leather tags as follow, one is my speedy and the other is that I found from TPF.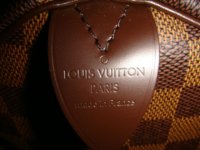 3) The canvas of my speedy is sofer than my friend's speedy and my other DE bags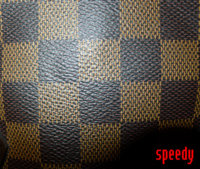 Is it normal? I am confused...please help me...Thank you!
Last edited: