Hei!
I have been thinking to get another epi piece, also the LV line that I like best. I like the outlook of speedy epi which is very structural and simple, but the downside is it can only be hand-held. This is not a problem when I use it for work, but for weekends it will not be so convenient as I have a small kid. The petit noe can be used as a shoulder bag, but I am not sure if I am going to like the shape and have to tie-untie it everytime to get access to my stuff.

For your information I have an Alma epi in brown color.
So, What is your opinion on this two bags? both are pre-loved but in wonderful condition. Prices are more or less the same.
1, petit noe in yellow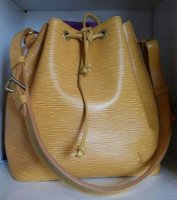 2, speedy 25 in blue