Hi everyone!
My birthday is about a month away, and I have narrowed my special purchase down to 2 bags:
Gucci super mini marmont in multi pastel
Vs.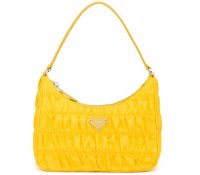 Prada nylon and saffiano leather mini in yellow
I would love a casual wear bag that has a sweet colour and i feel that these 2 fit the bill. Trendy is ok with me as i feel like i have enough classics for now.
Most of my bags are leather so I wanted to give nylon a try. The super mini's colour is tdf.
Any input will be appreciated. Thank you!