I'm thinking of ordering a WOC so don't have the luxury of trying it out. Not sure which should I get. Number of card slots doesn't matter to me but it has to fit my phone, maybe a pack of tissues and a lippie at the minimum.
I wonder if the two compartments would actually reduce the capacity but it is slightly bigger so I'm not sure..
Would love to hear your comments and advice on this!

1: slightly larger, two compartments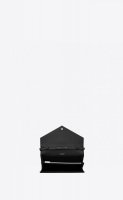 2. smaller, comes with a section of leather on the shoulder strap, one compartment