This is my collection built on the premise that anything I've lusted after for longer than a year I must have. Anything which doesn't meet this criterion gets cycled out, and this is what's left. I'm still seeking the perfect Chloe Edith and YSL oversized Muse.
First, my LV set:
Epi:
Speedy 25, pochette accessoires, mini agenda
Sellier Dragonne wristlet clutch
Blue Noe (pic 7)
Vernis coin purse (pic 6)
Denim print cotton bandanna (pic 7)
Prada set:
Orange large shopper with saffiano handles/trim.
Purple shopper with patent handles. (Pic 3)
Fuschia satin mini bag with metal ring clasp (pic 5)
Black nylon mini drawstring bag (pic 7)
Versace cream moulded box (pic 2)
Hermes mini scarf set:
Pleated floral scarf
Pink ribbon twilly (pic 4 and 5)
Grey alphabet twilly (pic 6)
Blue twilly (pic 7)
Balenciaga set:
Green wallet (pic 1)
Matelasse quilted clutch
Sky blue 2005 chevre first
Sky blue 2005 chevre work
Bubblegum 2005 chevre day (pic 4)
Tempeste 2009 agneau CGH brogues work (pic 6)
Chloe Paddington Tobacco (pic 3) and Sable (pic 5)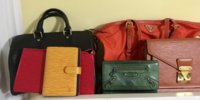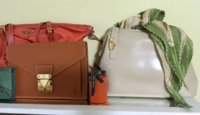 Last edited by a moderator: