Hello all!
My last purchase from LV was in March and I'm off to ban Island for at least 6 months (from then [emoji12])
I've gone a little hog wild, and it's time for my credit cards to get a rest (and get paid!). I figured the best way to start would be with an updated family picture and for one sacrifice, choosing one bag to sell.
Here's the family in their dust bags: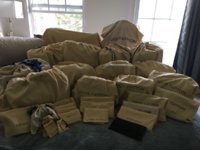 And without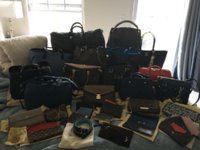 Here's slightly better lighting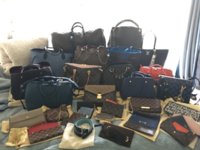 The Pallas in Rose Ballerine (and matching mirror charm) was chosen as the sacrifice, because she is the last bag with Vachetta handles left, and after taking great care of her, it's someone else's turn to go nuts about keeping her even patina!
Here's how I store my bags (all except the keepall that lives in my closet, and the Pallas which is in the closet now waiting to be mailed out to its next owner, if I can find one ::see rant below:

Ok here's the rant:
When I posted the lovely Ms. Pallas on
eBay
, I was messaged by a few people pointing out the the receipt had a totally different bag listed of the same price. Turns out the manager who rung me up made a mistake when I purchased her last year and rung up the Pallas Shopper in Dune. So now I have NO receipt for a bag I spent $2,500 + tax on!!!!!!!!!!!!
I called LV customer support , and spoke to the new store manager, they just pointed fingers at each other. LV customer service said the store should fix the error and the store said that customer service should fix the error. Each claimed there was nothing they can do.
So with that, I gladly go to ban island and stew on this for a while!
Thanks for reading/watching [emoji847]