Hi lovely ladies,
It has been quite some time since I last checked this forum, but I found something out today which left me questioning this Selma bag (bought from michaelkors.com)
I own a couple of selma bags, an ava bag and a phone purse from Michael Kors - all made in saffiano leather with the signature cross-hatch pattern. The last time I bought from Michael Kors stores was in 2014/2015 and I hadn't been bag hunting since. (The durability and low maintenance of the saffiano leather was precisely the reason why I did not have to get a new one)
Until I chanced upon the Michael Kors online sale. I got myself a Selma messenger, with the name of the item clearly stated as 'Selma Medium Saffiano Leather Crossbody'. I received the item today, and was surprised that the material is different from my other saffiano bags from Michael Kors.
Here are the photos:
Blue one is my existing Selma bag (you can clearly see the cross-hatch pattern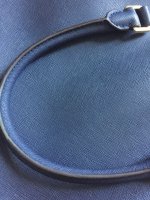 Black one is the Selma crossbody that I received from michaelkors online (the texture is clearly different here):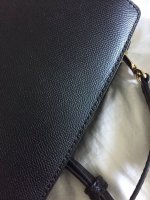 I own two other pebbled leather bags from Michael Kors (bought from stores as well) and the material is of course different from above. I am quite concerned as I chanced upon this article here:
http://www.fobsession.com/saffiano-leather-definition-properties-and-cleaning/
and have written to Michael Kors on this.
I have not noticed the Selma bags in stores recently if they have the same material/texture as the above black bag which was bought online.It has been a long time since I bought from their stores too. Any ladies with recent purchases of saffiano leather bags from Michael Kors or anyone whose bag is the same as the black one above?
Last edited: