Hi guys, not an authentication request per se, but I was browsing through some listings and saw that a kate bag I was interested in had this type of chain: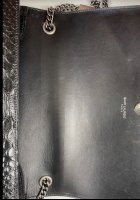 I've never seen it on a kate satchel before. Google came up with a few depop listings that had this same chain layout, but nothing from official stores or press releases showed this.
This design of the Kate is limited edition and therefore quite specific. No second hand photos or official photos that I have seen of it show this chain layout.
Believe that this style of chain is called the gourmette and it's not detachable. Therefore I'm wondering whether Saint Laurent ever made something like this?
I think I'd actually prefer it as I think this lets you shorten the strap to an under arm length.
The bag's heat stamp also seems a bit wonky... though it could be the angle.