"The Bag Whisperer!"
O.G.
Dec 18, 2009
15,559
11,126
Several years ago I picked up a useful item by chance while shopping at the Container Store. It was a nylon RuMe Macro Tote that rolls up small and light-weight and is secured with an attached velcro strap. It opens up large and strong and holds a lot and it is comfortable to carry on your shoulder. Over the years I've used it often as a handy tote and I really found it valuable back when I was taking public transportation to work.
The tote also has an unexpected benefit. It is not waterproof but it is nylon and has water-resistant properties, so if I got caught by an unexpected rain/snow storm I could quickly put my purse inside the RuMe Macro Tote, sling it over my shoulder and keep my leather bag dry and safe. It's now become a habit that whenever I switch bags I always transfer the rolled-up RuMe tote into the next bag.
I've recently retired from working and I have started taking long walks for exercise and enjoyment. I've found that my small, vintage Coach Daypack 9960 makes an excellent bag for walking (see pics below). I use the Daypack as a light-weight, hands-free bag to hold a few necessities (e.g., phone, tissues, ID, house key, mask, etc.)
So I decided to buy a another RuMe tote to keep inside my Daypack. I got the medium tote (it's smaller but still roomy) and it's already come in handy a few times, like when I've stopped to pick up a some items at the local Farmers Market.
Last Saturday's walk started out as a beautiful, sunny day but that changed suddenly. The sky turned dark, the clouds rolled in, and I stated to hear thunder as I hurriedly turned back toward home. When I felt the first drops of rain I pulled out the RuMe Medium Tote and put my Daypack inside it for protection. I was soaking wet by the time I got home but my leather bag was nice and dry, and that's the most important thing, of course!
Here are links for both the RuMe Macro and Medium Totes, they also have a Mini Tote but I haven't tried it. You can also buy them on
Amazon
and other sites and they come in a variety of colors and patterns. I highly recommend them as handy accessories that may also help to protect your valuable bags!
https://www.myrume.com/products/macro-tote-downing
https://www.myrume.com/products/medium-tote-downing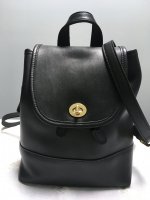 Last edited: