This is a review of my Dooney and Bourke Verona Bionda Elisa in the colour wine. I received this purse as a Christmas gift, but it retails new for $298 (and was released in April 2016).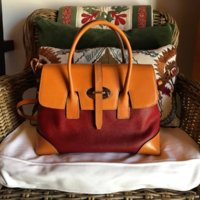 The "Elisa" handbag comes in three color-ways/leather(s): Verona, Verona Bionda, Florentine, Suede, and Ostrich. The Verona Bionda (pictured above) is a combination of smooth vachetta leather in a warm caramel color and Dooney's signature pebbled leather in wine with shiny gold tone hardware.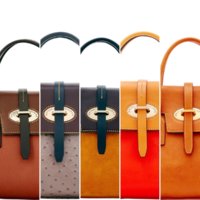 (Other leather and color options).
The vachetta leather has a fine grain and is very smooth. The flap which closes the bag, the bottom corners, and the cross body strap are all made of the same material. While this particular leather scratches easily and is not water resistant, it will develop a lovely patina over time with regular use. The leather, which is sturdy and and on the stiff side, lends a certain structure to the handbag that reminds me of Mulberry or Hermes.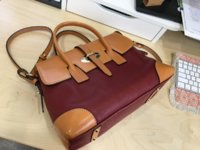 The pebbled leather, which comprises the body of the bag, feels thick and rich. Dooney's pebbled leather is known for its durability (i.e. scratch resistance) and water resistance, and this handbag is no different in that regard (just be careful of the untreated vachetta leather). The pebbled surface is lovely to hold, but it is a softer leather than the contrasting vachetta and with regular use develops a certain slouch--not unlike the beloved Florentine Satchel.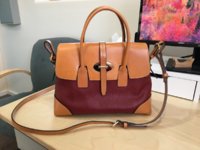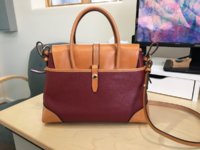 The two leathers when paired in this fashion are a perfect match, and their contrasting color and texture make for one beautiful purse!
When you open up the bag, via the tongue and loupe hardware, you're greeted by a smooth dark green suede lining which covers the entire underside of the flap. The interior of the bag however, is covered by the traditional red twill cotton fabric which we've come to associate with D&B.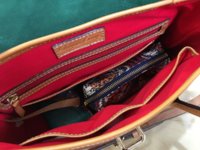 Inside, there's two small pockets, one large slip pocket, and one large zippered pocket (all trimmed in that warm caramel vegetable tanned leather). Besides the four pockets there's also a nice sturdy key catcher which is sewn to the interior. The exterior of the purse has one large slip pocket on the back with a clasp closure--perfect place to drop your phone for easy access on the go. The bag also sports four metal feet on the bottom.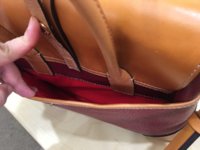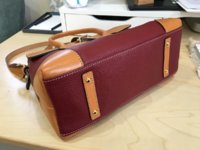 Measurements (taken from D&B):
H 9.25" x W 6.5" (aka depth) x L 13.75"
Handle drop length 4.5"
Adjustable Shoulder Strap drop length 23"
Rating: 5/5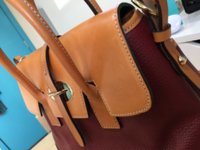 Cons: While this classic handbag is beautiful, the front flap with the tongue and loop closure makes it a bit tricky to open and close the purse. With regular use I imagine most people would become accustomed to it, but I thought it worth mentioning anyway. Unlike Mulberry's Bayswater, the front flap does not fold back on itself, when you open the purse. With regular use, I imagine the leather will become softer and more pliable, but it's just not a slouchy leather.
Final thoughts:
All in all, I think this is an amazing purse. The price is reasonable and the quality is superb. I believe that with regular maintenance and proper care, the purse will last many many years. As with any well made leather item, if you treat it well, it should last you a lifetime!
For anyone looking to add a truly classic handbag to their collection, I highly suggest you seriously consider the Elisa from Dooney and Bourke.
Thanks for reading, and let me know if you have any questions!